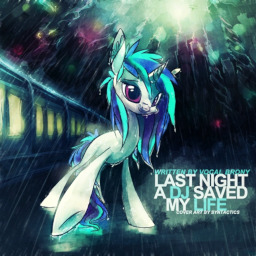 This story is being put back up for archiving purposes. It was once featured, thrice rewritten, and abandoned. I don't even remember what was original draft and what was rewrite. I just think it'd be a shame to leave it.

I've also added some of the "in progress" rewrites that were planned but never published/completed.

Maybe one day I'll complete this.
Train wrecks and stereotypes. The city of Manehattan remains divided, even after the Elements of Harmony brought the world back together. Ponies of all sorts squander the resources and scraps left to them, trapped far from the beautiful light above; unwanted and sickeningly poor. Streets are cramped and flooded whilst chemical mists linger throughout. This city wasn't designed for them, it is merely the knife-edge of a crumbling empire. Caught in a train hijacking gone wrong, and on the wrong side of the law, Awry finds himself in a delicate balance of power.
The question is simple. All in... or fold?
Chapters (7)