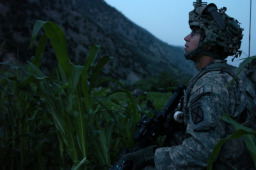 Source
A United States Army Military Police soldier finds himself in Equestria after surviving an ambush in Afghanistan. Old enemies return to threaten the kingdom and it's up to Twilight, her friends, and the strange newcomer to stop them.
Edited by FrontSevens.
*This happens to be my first tackle on writing fan fiction. Regardless how this goes, let's drive on.
**May add tags and characters in the future...
Chapters (6)