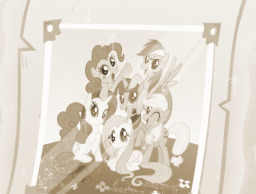 Writer's Note: This story is not very good. It was my first foray into actual fiction. Don't read this.
---
Twilight Sparkle, Pinkie Pie, Rarity, Applejack, Fluttershy, and Rainbow Dash. The closest of friends. The living embodiments of the Elements of Harmony. Together they defeated Nightmare Moon, Discord, and the changelings. They discovered the magic of friendship.
Recently, they have been practically isolated from one another. Each one of the Mane Six reflects on the personality and mindset of another. Will they become closer once more? And what exactly is Twilight's plan?
Lyrics are copyright Pink Floyd. Constructive criticism and feedback are humbly requested, as this is my first MLP fic.
Thanks are in order to my wonderful pre-readers: Regidar (Ch. 1), zaponator, and LonelyBrony (Ch. 4-6).
Chapters (7)