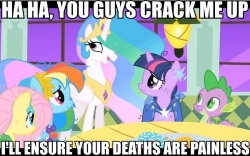 Source
Note: Mature language used and some sexual themes.
When Molestia gets bored of being princess, she decides to open a portal to where only Lauren knows. She brings her sister, Luna and to make it better, Derpy Hooves tags along. Together they troll America.
Another note:Some trolling...Okay, heavy trolling, but this is not a trollfic.
Chapters (1)