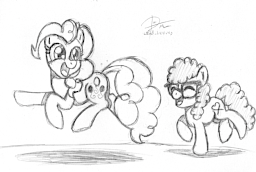 Source
When a tornado wrecks devistation through Ponyville, how will Twist survive the loss of her home and family? Will a certain pink Mare be able to help her and be there for her in this time of sorrow?
And how will the rest deal with the losses they have suffered. Can Pinkie help them all? Can she bring happiness to her friends who suffer?
All she knows is she cannot let them remain sad, especially one certain filly she cares about a lot, and has no family left.
Credit for cover art goes to leadhooves on DA. I did not create the art, he did.
Rated Teen for character death and language.
Chapters (2)