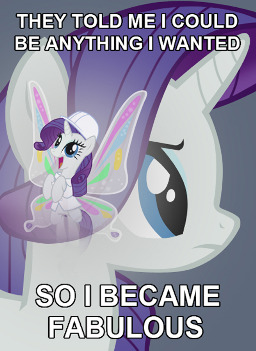 My name is Rarity Filigree, daughter of Magnum and Euphoria Filigree. My sister is Sweetie Belle Filigree. I am a fashion designer and owner of Carousel Boutique, where everything is chic, unique, and magnifique. I am the Element of Generosity and good friend to those who call me theirs. I grew up in Ponyville and have had many adventures of love, loss, and triumph.
This has not always been the case. I was not always the mare who is sitting here, writing this prose that will likely never be read by anyone save for those whom I trust the most in my life. However, as I grow older, and with the events of Discord's return so fresh in my mind, I am reminded of how easy it is to lose the memories most important to oneself. So please, before you judge me too harshly, listen to my story.
Inspired by this thing I was shown over on derpibooru.
Chapters (2)