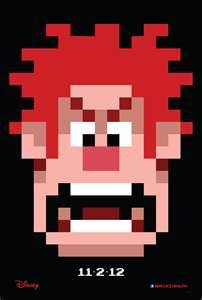 Source
Due to an freak electrical storm one video game character known as Wreck-It Ralph gets sent flying out of the Arcade power grid by way of a runaway game tram. Eventually ending up in a computer program area where all the My Little Pony: Friendship is Magic shows are stored on the internet, the now lost and most defiantly out of place 'bad guy' is stuck in the land of Equestria since unlike the Arcade world. TV Characters don't leave their areas as copies are made of them and their world and sent off instead to users, and worse still none of them even known of this fact and think their worlds are real.
Now Ralph will have to find a way back home before Litwak's Arcade opens after repairs from the storm is over and Litwak finds out he is missing again and the game gets unplugged. At the same time he must prove himself to the ponies he is not a bad guy even though his job is to be a 'bad guy', and maybe along the way he will make new friends and the ponies will learn that sometimes 'bad guys' are not as two dimensional as they seem.
FIRST TIME DOING THIS SO BARE WITH ME!
WARNING! WARNING! Wreck-It Ralph Movie spoilers are inside! WARNING! WARNING!
Chapters (4)