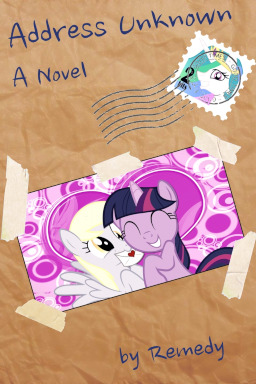 Source
For Derpy Hooves, it seems like every day gets worse than before. Her whole life she has been seen as nothing but a rolling disaster. She's seen as a clueless, quirky, messed up pony, simply due to her walleyed disability. How can she possibly hope to erase the stereotypes she was assigned? For Derpy, it's impossible.
Impossible, that is, until she chances into a certain purple unicorn. Will this meeting be yet another failure, or could it be the opportunity she's been looking for, and how could that opportunity affect her life?
I'd like to thank slip_stitch for being both an editor and a proofreader for me. Without her help, this story would literally be one giant punctuation error.
Also, thanks to Ardensfax for giving me the inspiration to try my hand at writing, Tobyc for putting a massive amount of work into a tvtropes page dedicated to the story, and Perilian for the massive amount of encouragement that kept me motivated enough to work my hardest at writing.
With a giant thanks to Kevinltk, Address Unknown is now available in both ePub and mobi formats! If you would like to download them, they are available here:
ePub - Teen (Clop Free)
mobi - Teen (Clop Free)
Cover art designed by Novel Idea
And, for everyone out there that enjoys Address Unknown, I have been honored to have a dramatic reading done by HanaYoriUta!
Here are the links, in 3 separate installments:
Chapters 1-15
Chapters 16-30
Clop Chapters
Chapters (30)