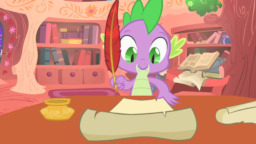 Spike would like to indulge in a little late-night storytelling. If he could just get a little bit of privacy, he might churn out his masterwork. A sharp quill, a bottle of ink, and a head full of ideas. If only that owl would mind his own business.
Featured on Equestria Daily!
Thanks to Uma for rough draft feedback.
Chapters (1)