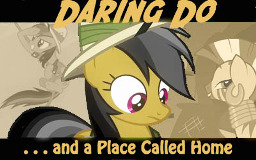 Written for the The Great Shipping Collab.
Few ponies know that Daring Do is a real pony, her adventures only rarely bring her back to Equestria. But any time they do, she's drawn to a hut inside a gnarled tree in the Everfree Forest, where the zebra she loves waits for her. This time, Daring offers Zecora a choice, to send Daring off on another dangerous adventure, or keep her safe at home. To find the answer, Zecora will have to weigh heart against soul, and love against desire.
Based on a pairing randomly generated by Garbo802, preread by Garbo802, DbzOrDie, Jackie and First_Down.
Chapters (1)