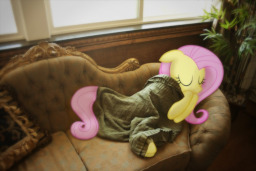 "My name is Rick Gärtners, and I write this diary to whomever comes across it. I am a thirty-eight year-old male with no spouse, but that's irrelevant right now. If you do happen to come across this, note for what you're about to read is a record of my life's history; day by day, month by month, and year by year. But never will you expect what's written in this forgotten journal. So sit a while, my readers, as you'll see how being shown to "kindness" can change my malevolent life... forever."
A Fluttershy rendition of 'My Little Dashie' and written out of pure inspiration of becoming a writer.
2020: Story is undergoing revision. When it'll be done is not estimated.
Chapters (11)