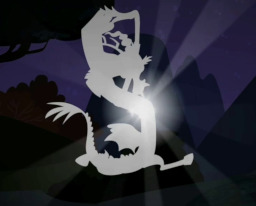 Equestria has been plunged into a neverending storm of disharmony and nonsense, all by the hand of the entity known as Discord. But the last hope remains in a lonely old unicorn, as he climbs Discord's mountain to fight him, in a desperate attempt to restore the lost harmony.
This story was written before the airing of Season 4, and as such it's full of non-canon stuff.
-----------------------
A short story about how Discord was defeated the first time, written to celebrate Halloween. It comes a bit late, I know, but still I hope you like it.
I had no proofreader for this one, so expect to find grammar mistakes, because English is not my first language. Feel free to correct me at anytime.
Rated Teen for safety, even though I think it's pretty harmless.
Chapters (1)