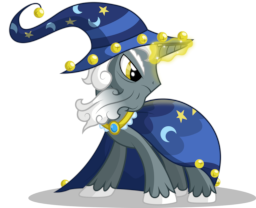 Source
From the Greater Canterlot Library. The most popular story from the legendary unicorn hero Starswirl the Bearded. Starswirl and his assistant are instructed to investigate reports of missing ponies in Dodge City, and the evil presence responsible.
--------------------
This is one of my earliest works, which some of you may have seen on Equestria Daily a few months back. After careful consideration, I decided to revisit the story, as I always believed it had not yet reached its full potential. Never before seen on FIMFiction, Starswirl and the Magus Magnus!
Chapters (3)