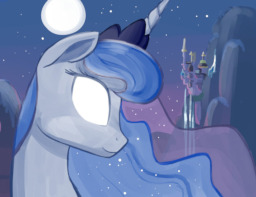 Source
Ponies are unique amongst the sentient races in that their souls are equally comprised of light and dark. All the other races have a gravitation towards one or the other, but only the three pony races hold the two in complete balance. It was for this reason that Celestia and Luna came to be in the first place, as the Fates decreed that keeping an entire race on such a narrow path was too great a task for one entity.
Ever since her return from her banishment, Princess Luna has felt something wrong with her subjects. The ponies of Equestria are lively and joyous, their eyes bright and happy as they bask in the light, but one thousand years of light has disturbed the balance of their souls. Now, Luna must take drastic measures to restore it before it destroys her beloved subjects.
Inspired by the poem 'Come Little Children' by Edgar Allen Poe and the video 'Children of the Night' by Spiritto and Lionheart.
Cover by kittenlover101.
Chapters (1)