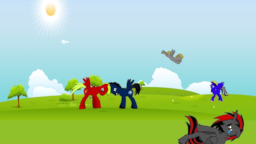 This Is NOT a self insert.
What happens when 5 Bronies come together to write one fanfiction? This monstrosity.
(There aren't enough tags for all the characters we might, or might not use. Don't judge us.)
Also it isn't our fault if this fic gives you Diabetes, Lou Gerick's Disease, AID's, Cancer, Terminal Australian Voice Disease, or Swag Fag Condition. So in short. You will die.
Please disregard the sad/tragic post in struggling authors, for it was a misclick.
Contributing Writers:
Someguy987
Chrysaor
LoosePartyCannon
BryanTheGreatAndPowerful
DashyJ
Editors:
Zetafighter99
Chapters (4)