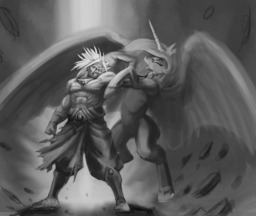 Source
After suffering defeat and nearly dying at the hands of Goku, Broly barely escapes his dying planet and crash lands on the peaceful world of Equestria. Instead of trying to cope to the new world, however, the insane super Saiyan sees the peaceful ponies as pathetic life forms that should be destroyed. Will Equestria survive against the destructive warrior or wil it suffer the wrath of Broly?
Serves as a replacement to the movie 'Broly: Second Coming'.
Artwork belongs to hattonslayden.
Chapters (14)