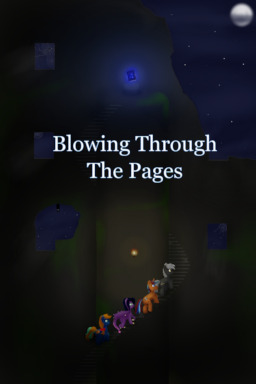 Source
This story is a sequel to Cast in Fire
---
Harmony. A goal that many have tried for and lost. Only a few nations ever obtained this peaceful state, and through tears of sweat and blood, Equestria became the very icon of it. Dark forces, however, wanted to break the land of ponies into a state of chaos, and will do so by reviving the old foes of Equestria.
Elsewhere, in the lands of Magistrum - the sister country of Equestria - a Pegasus by the name of Kenta Silvercast had received news about his father's disappearance, and soon afterwards, a formal invitation to attend the most esteemed magic school in all of Magistrum: Magistrate Academy. Little did he know, he and his friends were about to get pulled into a wild quest to retrieve a lost book of Star Swirled the Bearded. A book that should never fall into the wrong hands, or else the entire world shall fall into chaos.
Author Notes:
- Editor: Darklordcomp
- Previous Editor: ShadowlessNight =(
- Book 1 of the Scale Scrolls Saga.
- An [Alternative Universe] due to the existence of a non-canon country, whose history is related to Equestria's.
- Original Title of this Story: The Pegasus and the Book of Tomes
- This story is the ponified re-imagining of the first story I've ever wrote: Kenta Kurasaki and the Book of Tomes.
--------------------
Past and Current Cover Arts
--------------------
1st one: This one was drawn by Sound Wave (not the transformer).
2nd one: This one was made by BookWyrm's
3rd one (current): This one was created by Midnight Sonare (Also, here is a link to his deviant art.)
Chapters (5)