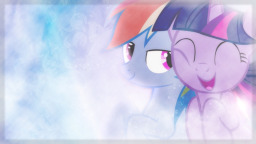 When tragedy strikes, the hearts of the beloved are shattered. Tears are shed in mourning of the fallen.
But, as time does its part, most ponies begin to move on, as the memory of a lost friend becomes but a blur in the vast, continuous timeline that is life.
Most ponies move on with the help and support of their friends.
But what happens when the same friends that help a pony make it through the tragedy of losing a friend... a partner... vanish?
That pony remains caught in an unbreakable cycle.
Scared.
Sad.
Falling.
Chapters (3)