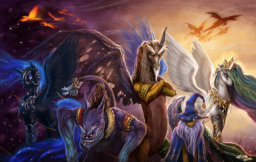 Source
Equestria is a land filled with ancient magic, evil monsters and epic adventure. It is a kingdom where legends are made and heroes do battle against the most terrible enemies, all in the name of mighty ideals.
These are their stories.
----
A short story collection of epic pony heroes doing epic things! The rules are simple: each story has to be 5k words or less, while still being 'epic'. Expect a mixture of high fantasy or sci-fi.
Chapters (2)