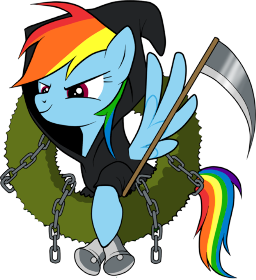 Source
On a dark day, one may wonder: just what horrors lie beyond the veil of the heavens? What ghastly demons exist that could only spawn in a pony's dreams? What terror!? What blight in the face of all that is good!? What- wait, it's the Mane Six?
What sort of twisted reality contains a lycan Applejack, a vampiric Fluttershy, a ghostly Rarity, and a lich queen Twilight Sparkle, you may ask? Why, it's just the Nightmare Realm, existing one and a half dimensions below and above the normal Equestria, and they are sick and tired of Nightmare Night not living up to its name in the 'real' world.
However, are these nightmares truly nightmares, or do they just like a good scare? Why, it depends on who you're talking to! So sit tight, give way to fright, for coming soon is Nightmare Night!
Chapters (18)