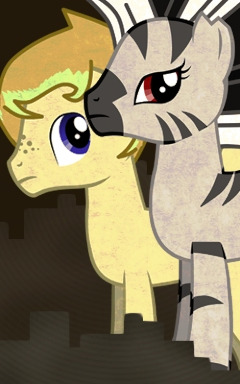 View the Google Doc! All story information will be updated on the Google Doc file before anywhere else.
Summary: New Bridle, once a great port that connected Equestria with many southern lands, was without a doubt one of the first to face the consequence of the Great War's hostility. While the city itself never was truly destroyed, with it's familiar skyline and landmark roadways still in tact, the War had effectively cut it's veins - New Bridle lacked the resources of other cities, north of arid deserts and south of infertile mountains. Seeking relief, the city surrendered to the Zebra Army early in the war on it's own accord, and as a result, faced the wrath of Equestria's own megaspells. Now a desecrated shell, wasteland survivors have long began rising from it's corpse, the old ethics of friendship and caring having parted in exchange for fear and loathing; wartime attributes poorly rewarded with the extravagant gift of glory.
Two wasteland survivors from the cold north head South into New Bridle. Kicking up the bones of the hollow city in their quest, the duo begin their quest to discover what truly happened to the ex-Equestrian city.
Special thanks to my friends Shady_Steps and Snaggletooth. Without you, the world would have died in the womb.
Still in need of proof readers, so if you'd like to help me quicken the draft process, drop me a message sometime. I'm in super need, especially since I hate posting chapters without someone to at least doublecheck grammar.
Chapters (5)