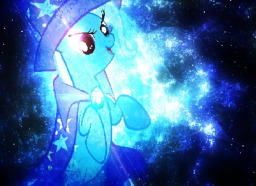 Source
Continuation of "Interview with the Changeling".
The Changeling threat has been averted and Trixie is once again traveling Equestria on her own, on an endless quest to find her destiny.
Stumbling upon an ancient tomb, Trixie finds a secret that will teach her the truth about herself.
Join Trixie as she attempts to piece together the remains of her life, learn how control the new powers she had been gifted with, and most importantly, show up that stupid sexy Twilight.
Includes Twixie shipping and implied Trixie x Blueblood
Cover art by: Tzolkine
Chapters (10)