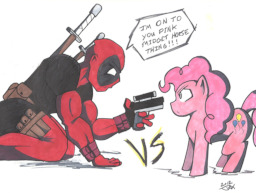 Deadpool has found himself in Equestria. He isn't very happy about being in a place that's too happy, but he is trying to fit in with everypony. He makes friends and enemies, and confuses the hell out of everything. Will he be able to find a way home?Will he be stuck there? And if so, will he be a good citizen, or bring about the end of Equestria as we know it?
"You know, I don't do that to EVERYWHERE I go, you didn't have to mention that. You're lucky you're safe behind your little laptop screen or wherever the hell you're using this from. If you destroy my image completely in here, I will not hesitate to strangle ya through the-"
Do you wish for a story or not?
"Fine."
So let it be said... so let it... be done.
Chapters (43)