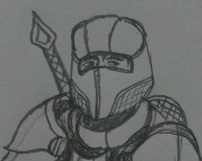 Andelius is a hardened veteran soldier of the Indaari Empire - an empire spanning a vast portion of the cosmos (which only Celestia and Luna know exists), and controls quite a few galaxies as of yet.
And yet for all that, he gets assigned to planet of four-legged equines. Despite his own personal loathing for the pathetic task of watching over a race of ponies, he accepts his Knight-Magistrate's command.
But just how will an entity such as him interact with the peaceful inhabitants of the land?
Chapters (6)