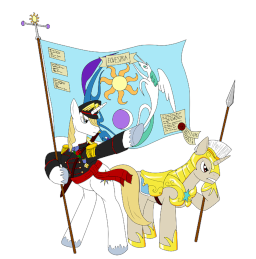 In the aftermath of the Changeling incursion of Canterlot during the marriage of Shining Armour and Princess Mi Amore Cadenza, Equestria gears itself for war against the Changeling menace. Against a foe that can take the shape of anypony, assume their life, and undermine Equestria from within, the Royal Pony Sisters create a new institution to monitor their Royal Guard for any Changeling corruption, cowardice, and incompetence: the Commissariat. As total war rages across the land one hero stands out above the rest; Commissar Blueblood, Hero of Equestria. Or at least that's what the propaganda says. The truth, as ever, is far more complex, as the esteemed Blueblood is merely looking for an easy and sedate life. Unfortunately, fate has a habit of throwing him into increasingly dangerous and suicidal missions, which he must survive with a combination of self-preservation, lying, and sheer blind luck, even if doing so only fuels his soaring reputation!
Equine military fiction in the style of Ciaphas Cain and Flashman.
Cover art done by me.
Proofread and edited by the always dependable Setokaiva.
Chapters (52)