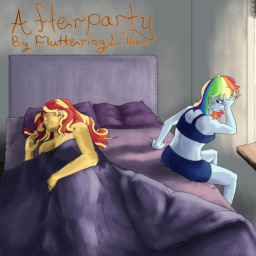 They'd planned it out together. The perfect senior skip day. The amusement park, the rides, the shows, the bonding, and the massive afterparty at Pinkie Pie's house. With dancing, games, friends from all over CHS, and lots and lots of alcohol. 
Only sometimes drinking makes you do stupid things. Like one of your best friends. Now Sunset and Rainbow have to piece that night back together, figure out their feelings, and clean up after a hoard of drunken teens. All while dealing with the hangover.
---
A huge huge thanks to my partner EquineWhoDoesStuff who both edited for this fic and graciously did this cover art for me after I tried and got aggro about hands. Go read their stuff! Sparkle and Sun are both amazing, lovely fics that do a great job exploring trans identity.
The narcotics tag is only for alcohol and the sex tag is only for mentions of past intimacy. No actual smut in this one. Hope you all enjoy!
Chapters (5)