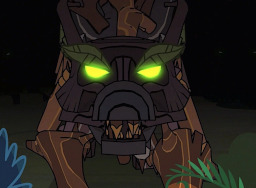 Timberwolves. Among the most fearsome creatures to lurk in the depths of the Everfree, these hulking, wooden monstrosities have sharp senses that make them deeply efficient at hunting and tracking ponies and other sentient beings that wander into the forest—and making sure they don't ever leave. Anypony with a lick of common sense knows they're not something to be trifled with, and any (generally ill-advised) venture into the Everfree must be done in groups and/or with extreme caution.
The new species of hairless ape that keeps falling from dimensional portals in the sky into the depths of the forest, however, seems to be entirely lacking in said common sense.
---
Not to be taken especially seriously. (Not that me saying so is seemingly stopping anyone.) Features implied violence, but no gore.
Pre-read by Dewdrops on the Grass and The Sleepless Beholder. Inspired by discord conversations with Estee about the common "Mandatory Timberwolf Encounter" trope in Human in Equestria stories.
Winner by default of the Dishonorable Creatures Contest I. Featured on 4/19/23-4/20/23!
Chapters (1)