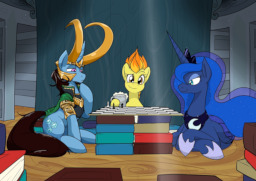 Source
In the dark depths of Asgard, Loki Odinson sits, punished for his crimes on Midgard.
But new developments cause the wayward son of Odin to escape his prison and seek refuge across the Nine Realms in a land very much unlike any he has ever seen: Equestria.
While Loki makes a new life for himself in Equestria, Thor must once again gather together the Avengers and give chase to his escaped kin. But will the lies Loki feeds his newfound friends send the Elements of Harmony on a collision course with the protectors of Earth?
(Cover image by the wonderful Reiduran)
Chapters (11)