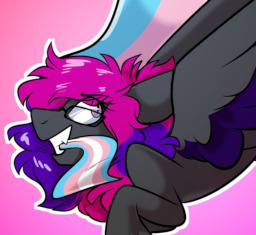 She was in a void, surrounded by nothing but her own thoughts. It was warm and claustrophobic, yet calm and peaceful. She once had a name, but she couldn't pull it out, even though she remembered almost every other detail from the life she lost.
Once an adult human transgender woman, she finds herself in the body of a female foal, living within a strange, perilous world with her single mother. She is finally given the chance to grow up as a girl... er... filly, though it also presents a problem to her.
She still has some of the wants and instincts from her previous life, desiring independence and control. Could she convince her other that she is who she is without breaking their relationship?
This fic is going to be filled with many cute chapters and lots of mother-foal moments, paired against the frustrations and efforts of an adult within a foal's body. I hope everyone enjoys!
Chapters (3)