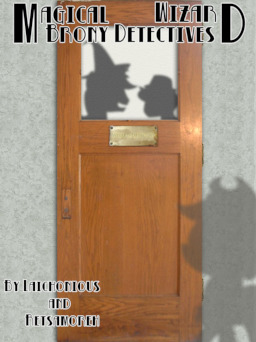 This story is a sequel to The Great Brony Migration
---
It's been nearly a year since the portal opened up and Equestria found a couple thousand new friends, who are finally settling into their new home. Unfortunately, for two of them, things have gotten a lot more complicated.
For two unconnected misunderstandings, (at least, that's what they'll claim) two Bronies are banished from Canterlot and find themselves in the heart of Equestrian innovation, luxury, and style: Manehattan. Seizing a coincidence and an opportunity to pose as Private Investigators, they embark on a new adventure. Of course, with their luck, they fall deeper and deeper into a conspiracy that has the city in its grip. They'll need all the help they can get, because even their fabulous headwear won't be able to save them from what's coming.
Collaboration between Laichonious, Retsamoreh, and Pissfer.
Chapters (5)