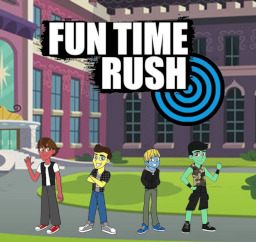 This story is a sequel to Fun Time Love Song
---
Sapphire Shores is staying in Canterlot while she records a new song with Golden Rock. Fun Time Rush are told by Golden Rock to stay away from her because they are bad luck.
---
Inspired and based on Big Time Sparks from Big Time Rush.
Quotes created by me and Red Tagg
The shared TMNT/MLP universe is created by Wildcard25
Cover Art created by yours truly.

Disclaimer: Neither I own Equestria Girls, Teenage Mutant Ninja Turtles (2012) and/or Big Time Rush.
Chapters (2)