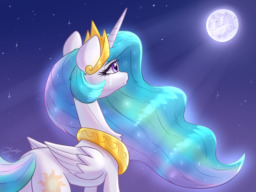 Source
It is a common belief that with immortality comes a warped perception of time. The years blend together and decades pass in a blink of an eye.
Four hundred years after Luna's banishment, Princess Celestia wishes that those rumors were true.
---
Inspired by the 4everfreebrony's cover of Cyril the Wolf's "Millennium Alone".
Proofread by Reviewfilly and the anons of /fimfic/.
Chapters (1)