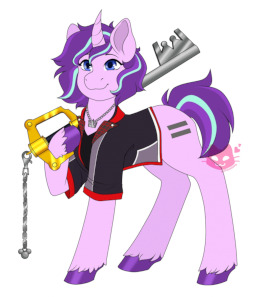 After his encounter with Yozora, Sora finds himself awake in a new world. Though it was far from ideal.
Trapped as the leader of a depressing little village where people gave up what made them different while stuck controlling the body of their leader was bad enough. But add onto that the fact that everything he learns about said leader makes him like her less, and the situation looks bleak for our hero.
Can he really just sit back and keep enforcing this girl's messed up beliefs of friendship? Or will his sheer belief in his ideals end up winning out in the end, undoing everything Starlight Glimmer has worked to maintain?
Author's Note: This is a complete re-write of a previous premise, which I liked, but felt like I could have done better. I've been hard at work trying to make the changes substantial, and to make them better than the previous attempt. I hope you'll enjoy the new version.
Update (2/27/23): New Cover Art!
Chapters (2)