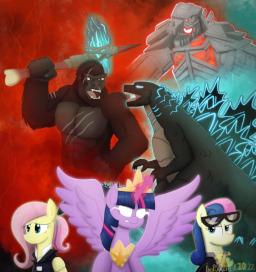 Source
Godzilla vs. Kong (2021) Crossover
This story is a sequel to The One True King.
---
A new age of monsters had come at last.
Coexistence, an idea that once seemed to be a fading dream, was made possible, and the Gods of Old had returned to the world of ponies. For a time, all was at peace. For a time, the Titans and the creatures of Equus could live together in a fabled harmony made true. But peace, as all things, could never last.
Ancient rivalries are being made new. Legendary monsters are reigniting a war long-forgotten. Terror is growing on every tide as an old enemy grows in the shadows. It's up to the heroes of Equestria to form unconventional bonds, discover the primordial evil living beneath their world, and fight a battle they could never have prepared for.
When Godzilla and Kong clash, and until the last king stands.
---
Cover art by Shrekzilla. Go give this awesome dude a follow!
Huge shoutout to Tarbtano, Great White Prime, ViliK, and of course Shrekzilla for their contributions to the story!
*FEATURED ON DAY ONE, 9/10/2022! Thank you all for the massive support <3*
Chapters (29)