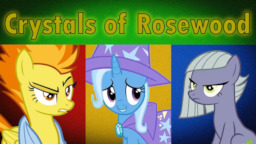 Trixie is celebrating the new year when suddenly everypony stops moving. She finds Spitfire and Limestone who also remain unfrozen and together they travel to try and restart time, but on their travels they realise there is a lot more wrong than they initially thought...
---
Rated Teen for mild violence and some romancey parts.
This story is dedicated to DarkiniVonBlessy and Tomas for welcoming me so nicely into the brony community. Also dedicated to Ace Play (AKA MrKat7214, the best brony streamer) and CaptainFlamey for introducing me to the show (the best non-brony streamer).
Chapters (2)