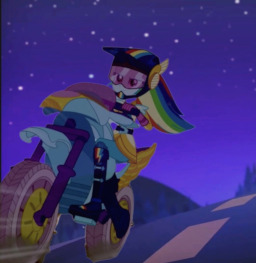 To satisfy her need for speed, Rainbow Dash sneaks out of her home at night to ride her motorcycle through the empty streets outside Canterlot City. At one night an impossibly fast truck overtakes her, leaving her confused but determined to beat that truck whatever it takes.
However, this won't be the only strange thing she encounters after that, and soon she'll find out that Equestrian magic isn't the only "paranormal" thing—and that everything unnatural is usually contained by someone.
---
This story is part of the A New Empathy-series and so New in Canterlot City is technically a prequel, but this fic can be read on it's own, as only a few elements of the prequel will be mentioned.
The SCP-Foundation is a growing community project made by various users around the globe. The main SCP in the chapters is credited in the author's note.
---
Huge thanks to RB_ for proofreading this story!
Chapters (8)