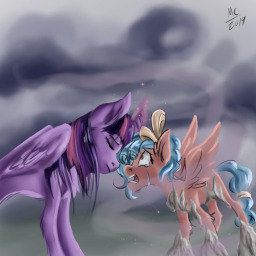 Source
It's been many years since Twilight took the throne as Equestria's sole ruler. Running a country is hard, especially now, but she has little choice in the matter. The trip to the wasteland was required though, her friend went not too long ago in order to investigate.
Hopefully she'll reunite with them so they can go back to taking care of Equestria, after all, who else will?
---
Written for the 3rd Annual Cozy Glow Short Story Contest. And was written in a single evening, with editing done later.
This is a spoiler of sorts, but the prompt used was: Cozy Glow vs Twilight Sparkle.
Cover art by: Artistincproductions, I'd link their DA but it seems to be deactivated.
Special thanks to Perfectly Insane for pre-reading and helping!
Chapters (1)