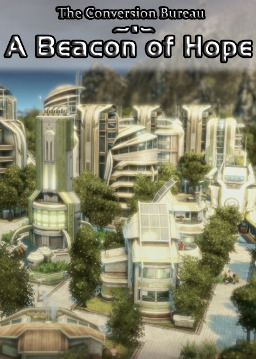 Humanity as a race has finally fallen and Earth has been purified. Equestria is now a stronger nation thanks for all it's new inhabitants, the newfoals, formerly humans before the purification of Earth.The celestial sisters rejoiced in their thrones, because they drove humanity to a new step of happines though the ponification and assimilation of all the humans into Equestria. Or so they thought.
Led by a mysterious stallion of indomitable will and resolution, far away of equestrian frontiers, a city stood defiant against Equestria itself as the last hope of humanity, maybe not humans anymore at the surface but at heart. With the last remnants of human knowledge inside the minds of the dwellers of this thriving city, will they be able to recover their identities and freedom? Or they are going to succumb against the problems of forming a independant state from Equestria?
A/N: This is my first shot at something as complex as The Conversion Bureau universe. I'll take mainly the original premise of this universe plus some adds from here and there, so you can look at it as a personal view about it.
Don't expect frequent updates on this, since I want to think each chapter. Anyway if this little thingy manages to be liked I can think about be more swift with the chapters, but I'm a very inconstant and tend to take far too time to write.
By the way, I hope you like this story!
Special and big thanks to Jack Kellar for spotting errors and edit the story thus far to make it more readable. (Damn my lack of english vocabulary)
PD: Cover made with a screenshot from the game Anno 2070 (All rights reserved to their respective owners)
Editor: Jack Kellar
Chapters (2)