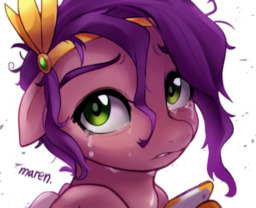 You and Pipp have something special. She just gets you in a way nopony else does, and vice versa.
Bad days are nothing new for the two of you. You've seen worse, and heck, you've braved every storm that came your way together, just as you've always done in the past. Side-by-side.
One glum afternoon at your place, you begin to wonder why. But little did you know that one harmless interaction could lead to more than you would have ever bargained for...
Cover art not mine! Check out Marenlicious on DeviantArt!
EDIT: Featured on 4/2/2023!
Chapters (1)