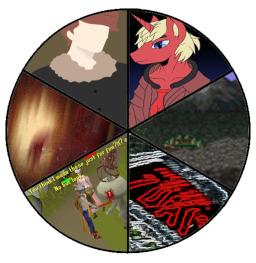 At one point in your life, there's always this... moment.
This weird, inexplicable moment where nothing makes sense. The odds of what is happening to you just don't make any sense at all. Even with all your imagination, this one moment would have never crossed your mind.
It's one of those moments where you just say 'Oh well, that just happened', or maybe 'it just works'. The kind of moment no one will believe you if you ever tell the experience to someone else. A few would dare to say that it's 'destiny' doing its work, fulfilling some ancient legend or legacy or whatever.
And of course, this is not limited to just humans! Anyone can fall victim to one of these!
For better or worse, this is the moment a few individuals are experiencing right now.
---
Written for Bicyclette's "A Thousand Words" contest. Under the 'Experimental' category.
I'm not sure if I have to explain the origin of each picture, But at least I can say that the upper right picture was made by ZaDrEx.
Chapters (1)