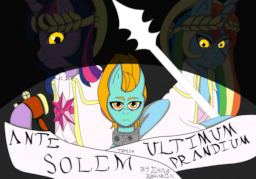 Source
First in the Ante Solem anthology, details here.
Private First Class Lightning Dust, during her service in the grand army of the Holy Equestrian Empire, has committed a grave transgression against the state that has landed her in a court-martial. Unfortunately for her, her case is being tried by the feared and infamous hanging judge of Equestria, the chief autocrat of the church: Saint Twilight Sparkle of House Magia.
Things are complicated further by the addition of another, perhaps even more feared individual: the high prosecutor Saint Rainbow Dash of House Fides, who has other plans for the traitor of the state.
Perhaps the razor would've been more preferable...
---
This story is the first in an anthology that will serve as the spiritual successor to Ein Sof Zealotry, and take place in a completely different universe from both that setting and from canon.
Story and Art by ZhaoZoharEX.
Chapters (1)