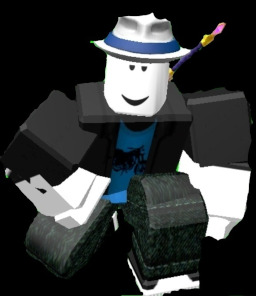 This is PARTLY comment driven story! You can interact with main character by talking to him, explaining something or even giving items! Imagination is your limit!
(Oh yeah, 18+ and 16+ are forbidden)
Some tags are going to be added in future chapters
---
Massive glitch appeared in Roblox Universe. Luckily, team of moderators successfully took it down before it could affect anyone...Or did they?
Unfortunately for Fan, he was the first and the last one to be affected by this glitch. Before danger was sealed away, abomination threw Robloxian into another universe, hoping to enter it's body and come back sooner. Fortunately, it failed. Even though danger was taken down, Fan was completely wiped from his reality, making everyone forget who he was, what he did and everething else. Also, after glitch was defeated, Fan is about to get 'deployed' in the random universe.
Oh, one more thing! He now has some powers from his universe in arsenal.
So what waits for him now? Let's find out!
Chapters (4)