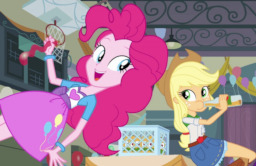 It's never good to have a date go wrong. It's even worse when it's the fourth in a row, and Sunset Shimmer can't help but feel down about her romantic prospects at this point. When she accepts an offer from Applejack and Pinkie Pie to go on an ice cream outing with them, she can't help but wonder how the happy couple has made things work so well between them. But when she asks, they're more than willing to share some of the details.
---
Runner-up in Bicyclette's ApplePie contest! Sex tag refers to past-tense references to a sexual encounter.
Takes place senior year, post-Holidays Unwrapped but pre-graduation (April-ish?). Not part of my shared "Conversations-verse" continuity.
Thanks to Krack-Fic Kai, RDT, The Sleepless Beholder and Tipper for pre-reading!
Chapters (1)