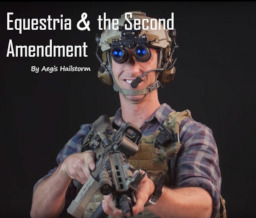 America has many different subcultures. Among one of the most prevalent is the one which the nation was built on, all based around a single principal...
The right to keep and bare arms.
Also known as, the 2nd amendment. Out of the massive assortment of people that own guns in America are a handful that stand out above their rest on account of their influence of the 2nd amendment community on social media. You may already know them by their online names; Brandon Herrera, Garand Thumb, Donut Operator, Demolition Ranch, Angry Cops, Kentucky Ballistics, Hickok45, the list goes on and on... But, when this rather special group of individuals get's stranded in Equestria, right at the beginning of season one of MLP:FIM, and come face to face with one Nightmare Moon. It's up to them to figure out how to stop her and get back to earth intact.
Shouldn't be that hard, right?
Chapters (7)