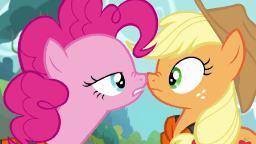 Source
Pinkie Pie and Applejack experience an ancient, scandalous royal tradition.
Spoilers: ApplePie, Spicy Tuna, maybe whatever you call AppleJack x Pinkie Pie x Princess Celestia, Spike gets treated properly like a kid for once instead of a tiny servant or a trained talking dog.
...
Thanks to Tipper, who had an idea that I turned somewhat inside out and back again.
Chapters (1)