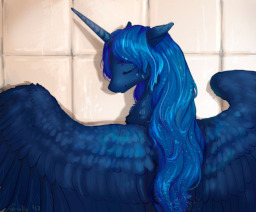 Source
You are an avid enjoyer of MLP:FiM, despite the show having ended a number of years ago, and Princess Luna, to you, was always best pony. One morning, following a long day of work and an even longer night of drinking, you find that very same lunar goddess helping herself to a warm shower. In your shower. In your home.
Sex tag for naked Luna and probably going to be implied stuffs later on. No actual sex, sorry.
Featured: 05/13/2022 thanks guys!
Chapters (2)