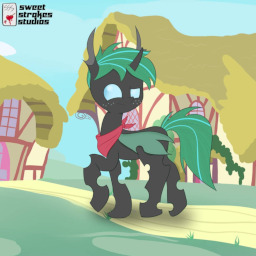 (If anyone takes art commissions, I'd like to request actual art for the cover art. Flit Wing is a Changeling character I made in Ponytown)
A face of sorrow hidden behind the mask of deception - Flit Wing - a lost changeling found refuge in the quaint town of Ponyville, and has been living a quiet life among the ponies there. During his times in this new town, he's made friends, a strong contrast to the hardship of the hive life - a life he refused to return to. However, among ponies is not where he belonged, or so he thought.
After months of living in disguise among ponies, and having grown so close to them, it began to dawn on him that after what his kind did, there's no way they'd accept him for what he truly is if they were to catch wind of it. However, that's the least of his problems as word gets out of changeling sightings. They couldn't have possibly figured him out, could they? Or is there something more going on...
Chapters (1)