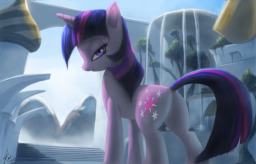 "It has been the pivotal teaching of the great Fountainhead, personal mentor and Celestia's most esteemed archivist, that the grand unified theory of magic, if discovered, is to be found within the mage's affectivity –that is; of the polarizing impetus of love, for unicorn magic, and hate, for Black Magic. It is claimed, further, that reality itself, too, is subject to this principle; and to deny so was self-contradictory. The dogma, however was not uncontested. Unicorns, Mages and Archmages from all over Equestria of all emotional preconditions would challenge and confute the thesis with ease. It was here that the great Fountainhead replied that the grand unified principle was too profound to be felt and too minute to be perceivable. He posits that, though invisible, this maxim holds together the fabric of the universe: matter with magic; existence with consciousness; dreams with reality; and–most significant of all–ourselves with one another."
-Starswirl the Bearded, "Hermeneutical Phenomenology of Pre-Classical Metaphysics", Royal Canterlot Archives (323 L.B.), p. iii-iv
---
EDIT 04/16/13: Remastered version coming soon! Grammatically sound, split into several chapters and improvised.
Chapters (2)