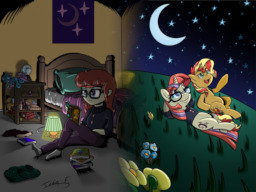 Source
In her dreams, Moondancer is a unicorn.
In her dreams, in the magical land of Equestria, Moondancer has a girlfriend. Her name is Sunset Shimmer, and she's smart, talented, confident, and kind.
In her dreams, Moondancer knows what it's like to love, and to be loved.
The worst part about a good dream is waking up.
---
An entry in the May Pairings 2022 Contest. Loosely inspired by Neon Genesis Evangelion, but has no relation to it. (By 'inspired by' I mean 'inspired by the vibes I got while binging it on my phone through the night'.)
(Minor CWs: A brief mention of non-sexual nudity and an allusion to suicidal thoughts. Neither of these elements are present enough to justify full warning tags, at least in my opinion, but they are there and I get anxious about not warning people, just in case.)
Cover art by the fantastic MemPrices! Please check them out, they do great work.
Thanks to Roxylalolcat and SigmasonicX for pre-reading and editing.
Edit: Featured for... some period of time? Like, two days or so I think? It may have been at the top or maybe it was kept off by a clopfic, I don't remember but apparently this is something people like to keep track of, I dunno.
EDIT 2: Now with a reading from Rainbow Infinity, which can be found here!
Chapters (1)