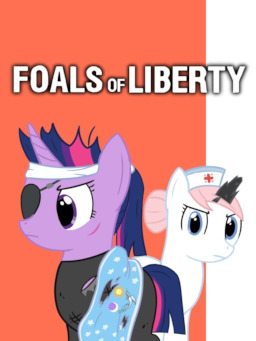 This story is a sequel to We Spoke Of Was And When
---
Equestria is known across the world as a nation of prosperity, the initiator of 'Pax Equestria, the global demilitarisation initiative that ensured worlds peace for the foseeable future.
Unbeknownst to the masses, a conspiracy thousand of years in the making is brewing in the heart of the country, and only one pony can set things right.
Will she liberate the country from the veil of ignorance, or will the diarchy succeed, bringing about the age of total control?
Find out in Foals of Liberty.
---
Cover art obtained via Rusty_Kettle's friend. Check the guy out, he's got some interesting stuff, and he is really underappreciated!
A longer story than what I usually write. Not sure how often I'll update it, but I'll see it to the end.
Featured 17/05/22.
Chapters (3)